Promotional apparel or swag is an excellent and affordable way to endorse and support your school, club, corporate event, fundraiser or team! Promotional items have been proven to be one of the most cost effective forms of advertising available and the right promotional item will keep your name in front of people for weeks, months or even years. Heck, we have a slew of My Smart Shirt shirts for our employees and look how much fun we're having.
Whether you want to imprint your image or class it up a bit with our digitized embroidery, we're here to make you look good. Our custom design technology will help you create a quality item that people will want to wear or use even after the company golf tournament is over. Create your promotional products with My Smart Shirt and show your group you know how to get your custom swag on!
The My Smart Shirt team is dedicated to maintaining your brand's integrity while delivering the most innovative and custom items available to help grow your visibility. We offer a wide variety of customizable promotional items to fit your needs and goal like pens, tote bags, headwear or even calculators. The possibilities are limitless…if you want a custom mailbox, we can make that happen. Almost anything can be imprinted with a brand, logo or name so there is something for everyone and every budget! These are just a small sampling of the types of products we can have customized just for you…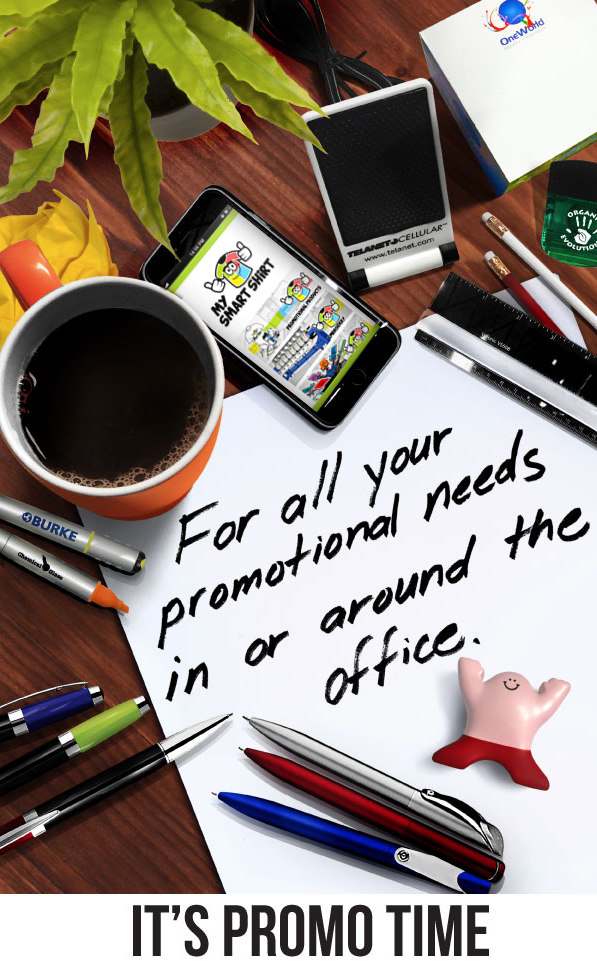 It all starts with your artwork. You can send us something you created, you can choose from artwork we already have available or you can work with our graphic designers to have something designed just for you. The My Smart Shirt team will then use your printing instructions to create a proof of your product for your review so you can see what your design will look like on your chosen product. The proof will show the colors, size and location that we will be using to create your items. This is your opportunity for change, and we will work with you on this until you're completely satisfied with the outcome. We don't create until you give us the okay.
All orders are reviewed by the My Smart Shirt design team before and after creation to ensure that your vision comes to life. Our team is available to help you along the way if you have questions and we guarantee all of our orders to your 100% satisfaction. So come on, let's put your logo on some stuff!
No t-shirt left behind, especially if it's got a logo!